Features of the Leap GIO Cloud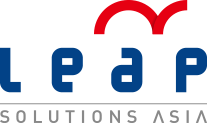 IIJ established the joint venture "Leap Solutions Asia Inc.(LSA), with Thailand's leading carrier-neutral data center provider: TCC Technology.
LSA provides domestic Cloud services with Japanese levels of quality and low latency.
Leveraging IIJ's cutting-edge Cloud technology and TCCT's robust Data center infrastructure , LSA offers the "Leap GIO Cloud", a secure Cloud service with a 99.9% uptime SLA.
LSA is an SAP Certified provider of Hosting Services, Cloud Services and SAP HANA Operations Services.

Leap GIO Private
5 Reasons to Choose Leap GIO Private

Asset-less computing
Leap GIO`s Private Cloud provides physically dedicated IT infrastructures such as computing resources, storage, network, etc. on monthly charge basis. Customers can build their own private cloud environment easily without fixating their resources on assets.

Full Control
By providing a VMware vSphere/vCenter, customers can configure and control all the components just like they would in data centers. As a result, Leap GIO Private enables customers to utilize existing IT assets (software license, etc.) as well as their operational tools and skill sets.

High Reliability
Leap GIO Private includes an industry-leading 99.99% SLA. A private cloud is built only for your company and is hosted at 2 TCCT Premium data centers for redundancy, more reliability, and suitable for mission critical systems.

High Cost Performance
LSA is the only one in Thailand to provide this service purely on monthly charge basis. No more yearly contract.

High Security
Advanced security features in the form of add-on options such as Firewalls, IPS and DAM are available for you to ensure the security of your system`s operation.